The

Best Cannabis Fertilizer

Brand from The Netherlands.
For
bigger, tastier and stronger buds
Now available in Thailand, the award-winning cannabis nutrients brand from the Netherlands. Van Goghs has been producing a complete line of cannabis fertilizers and nutrients for more than 30 years, using only the best organic materials.
"Van Goghs Fine-Tuned Formula for Any Marijuana Strain"
Through our extensive research, experimenting, testing, and continuously fine-tuning our secret formula, we have created one of the best cannabis fertilizers in the world that is suitable for any Marijuana strain.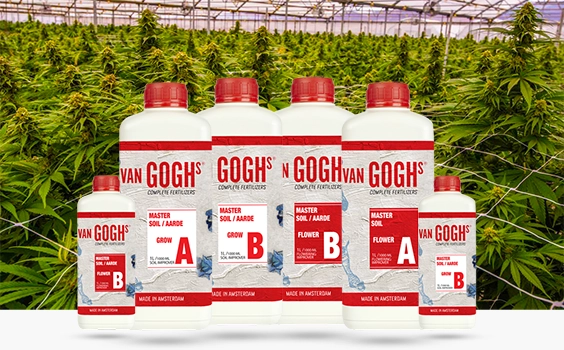 Maximize Your

Cannabis Growth

with Van Goghs A and B Fertilizer
By using Van Goghs A and B fertilizer, you can be confident that you're providing your marijuana plants with the best possible nutrients, resulting in big, strong, and high-yielding plants. Don't settle for less than the best – choose Van Goghs A and B fertilizer for exceptional cannabis growth.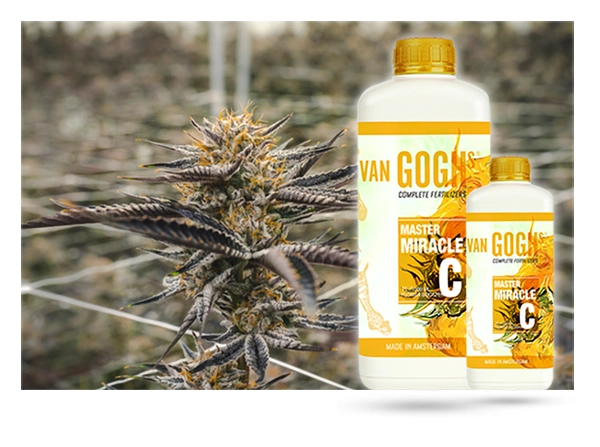 Van Goghs

award-winning

bud booster!
Are you tired of lackluster blooms and underwhelming yields from your plants? Look no further than Van Goghs award-winning bud booster!
With Van Goghs Miracle C bud booster, you'll experience explosive curing of your blossoms like never before.
Don't settle for mediocre results. Upgrade to Van Goghs Miracle C the award-winning bud booster and watch your plants bloom like never before!
Van Goghs Spint-off a

safe and effective

solution to rid your precious buds and leafs of spider mites. 
Our organic formula will eliminate spider mites without compromising the quality, smell, or taste of your buds. 
Our formula is safe, effective, and easy to use. It leaves no harmful residue behind, so you can rest assured that your buds will be safe to consume once harvested.
Maximize Your Cannabis Growth at Home with Our

Complete Starter Kit

.
Our complete cannabis nutrients starter kit has everything you need to produce strong, big, and high-yielding plants, guaranteed. 
Specially composed for the home grower, our starter kit is suitable for up to 13 plants and available for both soil and hydroponics/cocos. 
With 12 specialized nutrient bottles and enough nutrients to last throughout your plant's entire life cycle, our kit is perfect for growers of all levels, from beginners to experts.
Perfect pH with Van Goghs Concentrated pH Regulators
Our extra-concentrated pH regulators are specially designed to give your plants the precise pH balance they need for optimal growth and yield.
Made in Amsterdam, the Netherlands, our pH regulators are crafted with the highest standards of quality and care. Trust Van Goghs to help you achieve the best results possible in your cannabis grow.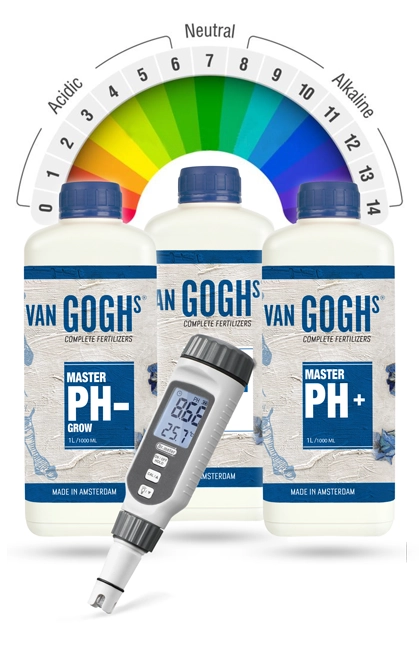 Van Goghs Nutrients Additives provide the ultimate solution for enhancing cannabis growth and yield.
Our three flagship products – Miracle Roots, Radical Enzymes, and Master Leaf – are designed to improve and complement base nutrients, giving plants the essential elements needed for optimal development.
Van Goghs 2023 Catalog:

The Ultimate Resource

for Cannabis Cultivators
We have released our 2023 Van Goghs catalog, and it's available for download now. This catalog is an essential resource for cannabis cultivators, whether you're an experienced grower or just starting. 
Inside, you'll find detailed descriptions of all our products, including our flagship Cannabis nutrient lines, supplements, and growing aids.
The Van Goghs catalog also includes helpful guides on how to use our products, as well as our feeding schedule, giving you valuable insights into how to achieve maximum yields and potency for your cannabis plants.